Sighting Ceilings
December 2022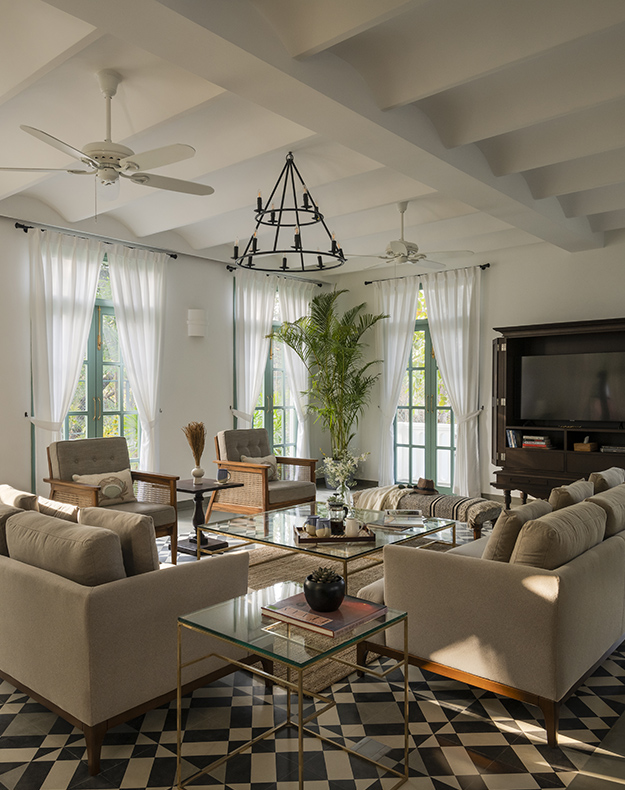 Our design process engages keen attention to detail, and hence, when we design our homes, we try to ensure that the ceilings complement the distinct aesthetics of each individual space. From time to time, we also use materials that benefit local communities and contribute to sustainability.
La Pasado in Assagao promotes an adapted version of India's celebrated cane craftsmanship. Dappled light falls through the minimalist cane ceiling at the entrance, highlighting unique aspects of the space while also conveying a sense of tranquility.
Natural materials in soft colors characterize the living room and some bedroom ceilings at Villa Da Fiore. In keeping with the charm of the old world, we've used this design feature to emphasize and highlight the interiors in some of our other villas. The drawing room at Villa Cardo also has a well-sculpted jack-arched ceiling with gothic-inspired light fixtures. The elegant jack-arched feature can be found on one of the bedroom walls, and the gothic element can be found in the bathroom's ribbed vaulted ceiling.
We take great pride in our innovative collaborations with local craftsmen who help to preserve some of our classic ceiling-building traditions. We offer an interesting dynamism to different settings and an alluring character to our homes through the artistry in our ceilings.
Show More