A Glimpse into the Marvels of Villa Cardo
March 2022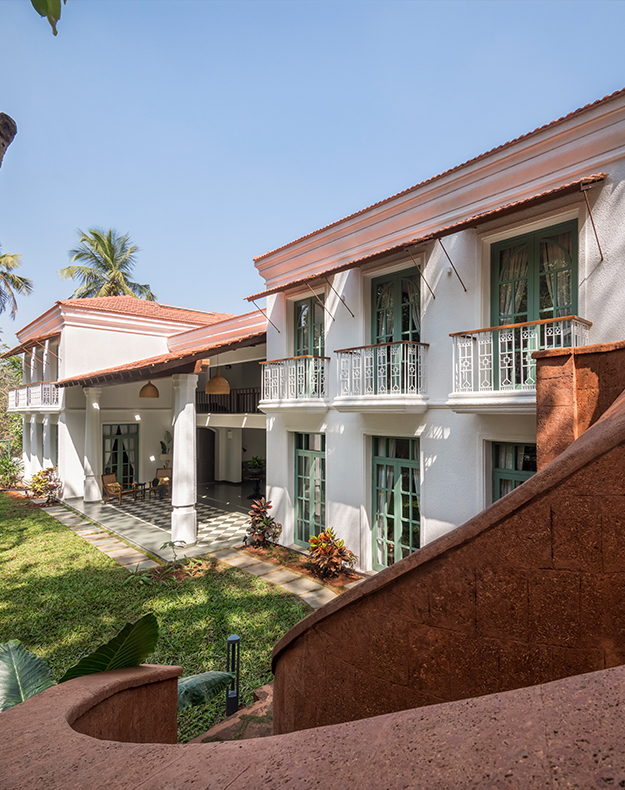 Central to the flourishing milieu of Assagaon, Villa Cardo embodies the musings of Goa's unique Indo-Portuguese architecture. Occupying 1000 sq. mts of pristine grounds, the home features manicured lawns, a private swimming pool and a hundred-year-old banyan tree that shelters the villa with its unparalleled beauty and wisdom.
Bearing 4 bedrooms and abundant living spaces characterised by beautiful big windows, the home reflects a perfect balance of indoor and outdoor life by catering to our inherent need for a connection with nature. The villa accommodates two staff quarters at the entrance and multiple utility and storage areas throughout the home.
Embracing the spirit of an ideal escape, the design features boast of double height ceilings, extensive verandas, thoughtful play of light and capacious indoor spaces that allow for uninhibited freedom of movement and thought. The immaculately curated interiors include tall wooden doorways that lead out to the gardens, stunning washrooms and classic en-suite bedrooms.
This exquisite 4bhk villa in Goa is the first Indo-Portuguese manor you can rent with Vianaar. Combining nature's best, Villa Cardo provides a luxurious holiday experience while also exhibiting fine architectural efforts in it's overall layout, including a footbridge and abundant balconies with views in every direction.
Show More