Curated Conveniences
October 2021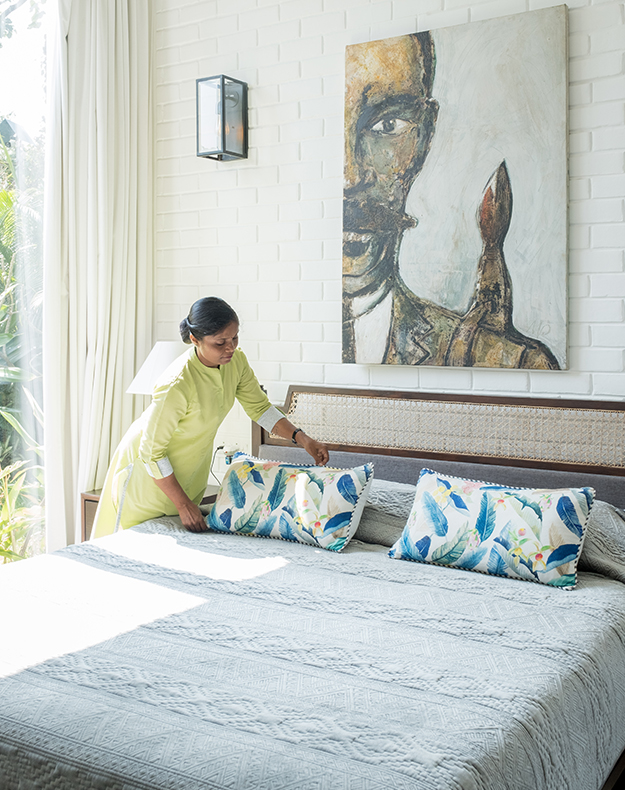 The possession of a home means so much more than a viable investment. At Vianaar, it is defined by an uninterrupted affinity with the natural beauty of Goa and an introduction to stress-free living. Keeping in mind the philosophy that drives us, our meticulous property management system ensures you can enjoy relaxing vacations, while we look into the day-to-day maintenance of your home.
Our Property Management Team includes estate managers; who serve as a single point of contact for everything related to your property and also guide the rest of the staff which is constituted of a locally hired and trained housekeeping team, a gardener, an electrician, a technical maintenance engineer, a plumber, 24*7 security, a pool maintenance team and, a deep cleaning team. This team takes care of your home in your absence and ensures that when you're in Goa, you can truly unwind in your home away from home.
Besides the operations team who work to serve your best interests, our dedicated rental management team oversees the rental of your home. For every enquiry received, we have a set protocol which enables us to ensure the protection of your investment. The meticulous vetting process followed by our team also helps us offer premier experiences to our guests.
As Vianaar was established to enable the realisation of wholesome circumstances that emphasise quality over quantity, we take great pride in curating exclusive experiences for all our clients. Our management services are extended only to Vianaar homeowners hence guaranteeing a set standard while also maintaining the shared responsibility of safeguarding your home.
Show More