A Space that Speaks for Itself
May 2021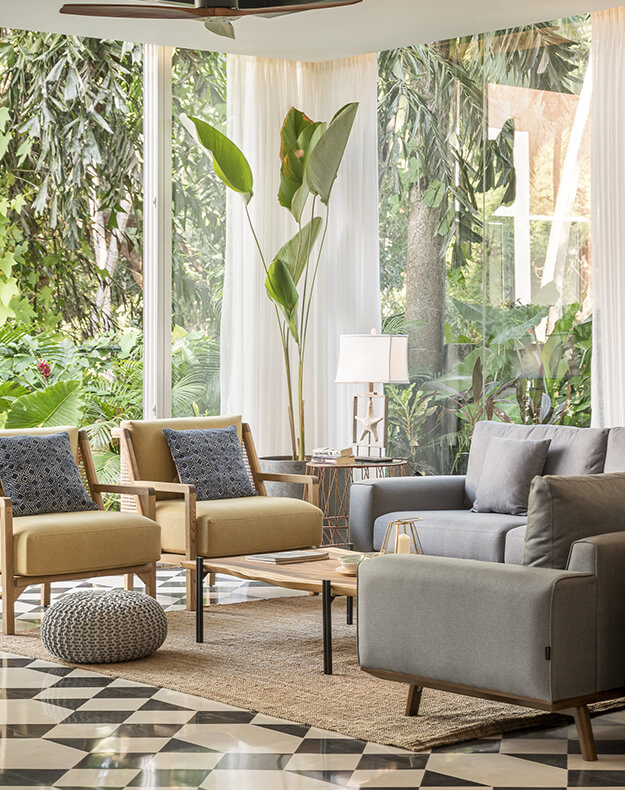 "Every room has a mood or personality… and it is this that one desires to develop." – Eleanor Brown
Great design is not just an appeal to the visual sense, rather an experience that enables us to interact and engage with our surroundings. We plan our interiors keeping in mind the spirit of the space, the essence of the environment and its influence on how you feel as you enter your home away from home.
Eleanor Brown also speaks of how if one has to develop the true personality of a space, it is essential to respect the past, accept the present and look with enthusiasm to the future. As our homes employ Modern-Contemporary or Indo-Portuguese techniques in their architecture, we make sure that our interiors represent the exterior aesthetics, while simultaneously complementing the natural environment.
An important aspect of our design sensibilities is that of comfort; while being aesthetically pleasing and interactive are essential, these ideals are held up by the elements of functionality. We ensure that there is plenty of space for movement and pay keen attention to the placement of windows for light and ventilation. The pleasure of being relaxed, letting go and connecting with nature is what guides us in our planning.
Furthermore, we apply the same ideas to the process of selecting artwork and furniture for our homes. With an interest in supporting the local craftsman and upcoming artists, we select our pieces with a lot of care and contemplation. Besides work from in and around India, we also source unique items from all over the world. These help us to add character and value to our homes.
At Vianaar, we make certain that every little detail is observed and evaluated so as to ensure that the original design sensibilities are maintained or enhanced. These are essential in enabling us to create the experience that we wish for all our guests to have.
Show More