A Night Out in the Goan Latin Quarters
September 2021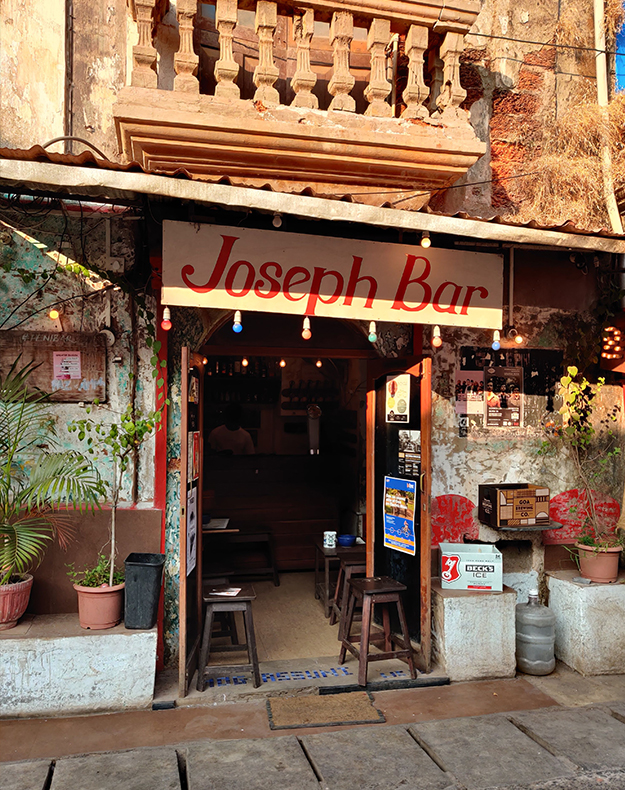 Popularly known as Goa's Latin Quarters; Fontainhas presents a multitude of options for anyone looking to make the most of their time. As no experience is complete without a night out in the town, this post highlights some of our favourite bars in this delightful locality. Here's a toast to preserving the old, celebrating the new and exploring the bold.
Miguels- Cocktails and Pesticos, Panjim:
The conception of this exemplary art-deco bar is the outcome of a longstanding friendship between Dhruv and Ankush, both of whom have a wealth of experience in the field of hospitality. As it is a trendy new spot in the area, remember to call well in advance for a reservation. The menu comprises a fusion of Konkan and Portuguese cuisine and some of our recommendations include the Gnocchi, Vegeteriana, Ratatouille and all their cocktails. Owing to an incredible open kitchen layout, you can witness the artists at work while they prepare some divine dishes and cocktails for you.
Joseph's Bar, Panjim:
If you're looking to experience Goa for the true meaning of Susegad, then Joseph's Bar is the place for you; they even offer a locally crafted beer by the name of Susegado. This roadside local haunt doesn't shout out to passers-by but it certainly makes for a memorable experience. With its old-world charm, relaxed music and local brews, it caters to fun spontaneous evenings with friends. The limited seating fills up fast, so if you get here early then you can settle in easy, relax and reminisce about the good old days.
For the Record-Vinyl Bar, Panjim:
Catering to the essence of an audiophile, Vinyl bar makes for a bold option for anyone who's eager to experience the nightlife in and around Fontainhas. Founded by Buland, who himself is a Gypsy Jazz musician-cum-architect, this space is a paradise for lovers of art and music. With an option of indoor and outdoor seating, For the Record boasts of an intimate setting inspired by Vinyl bars in Tokyo. A handcrafted vacuum tube Hifi system, cocktails using the finest local spirits and a modest menu with delicious dishes, make 'For the Record' a perfect spot for a venturous night out.
Goa may be popular for its incredible beaches, but once you're here you are in for so much more. Fontainhas, which is originally named after a reservoir means 'Fountain of the Phoenix'. Hemmed in by the ancient Ourem Creek on its East and Altinho hill on the West, this beautiful setting is a haven for art and inspiration. Besides being home to some amazing restaurants, the entire locality brims with culture and colour, which never fails to awaken new ideas.
Show More