A family member: Kavita Chavan
August 2019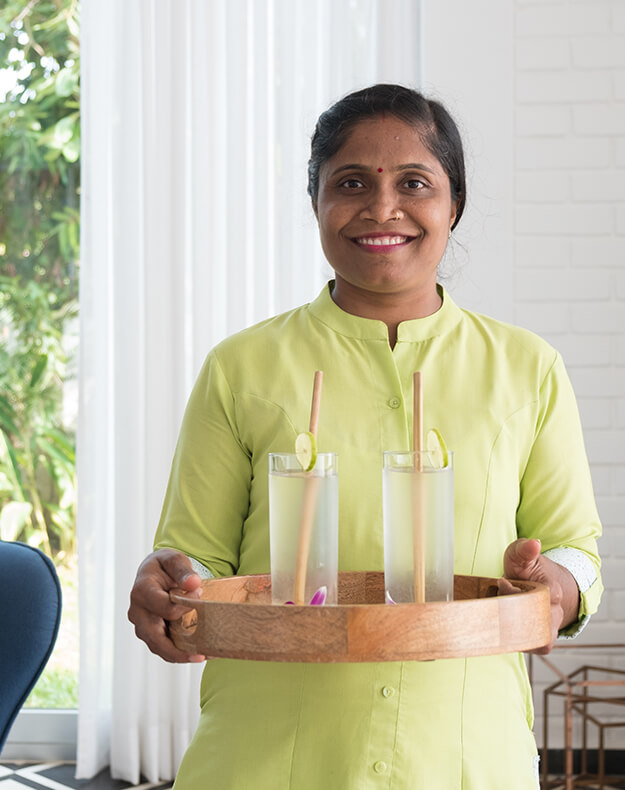 A cheerful, welcoming smile always greets guests at Vianaar luxury villas and apartments in Goa. This is the story of Kavita Chavan, one of the oldest members of the Vianaar family. She has been our strength for a decade.
Hailing from Kohlapur in Maharashtra, Kavita came to Goa in search of work. It didn't take long for her to make the town her new home. Her first project with Vianaar was Sol Sienda, and today she has taken over the responsibilities of the housekeeping team at La Maroma.
Kavita has shown enormous strength and ability to adapt and learn. From being housekeeping help, she has grown to train staff for the upkeep of luxury villas and apartments in Goa. She has risen through the ranks because of her commitment.
Kavita cites appreciation as a major difference being a part of Vianaar luxury villas and apartments in Goa. She has been thrilled to receive positive feedback from clients, who applaud her work ethics and happy-go-lucky attitude. Kavita has never compromised on hard work and efficiency. She claims her previous stints at holiday homes in Goa never acknowledged her efforts.
Kavita is a favourite with clients at Vianaar, and has received numerous job offers from them. But, she has always politely turned them down. She says, "Vianaar is family and she would never leave their side." We are honoured to be her family.
Show More