The Villa Goa – An Exclusively Curated Escape
August 2020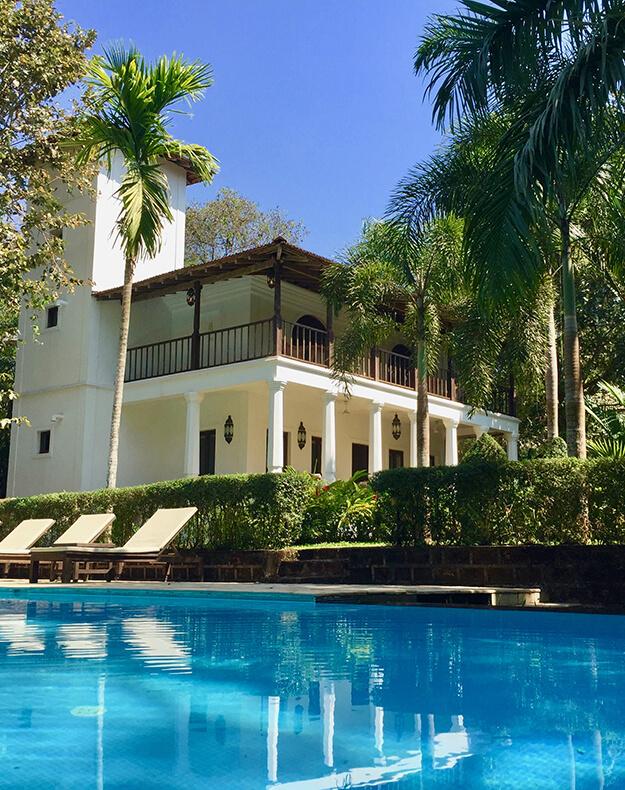 We all return from a vacation feeling refreshed, as if somehow an imaginary reset button has been pushed and suddenly, our everyday routine inspires wonderful new ideas.
The Villa Goa has been set up with just that feeling in mind. This beautiful holiday home in Goa is available on a short-term rental basis and makes it possible to relax, rejuvenate and revive yourself by isolating you from the pressure of planning and maintenance.
This boutique home for rent has been ideally positioned amidst 1.5 acres of sub-tropical frondescence, rendered complete by a private infinity pool. As the Vianaar philosophy is rooted in sustainability, we believe that to truly understand a place, you need to interact with all the elements that comprise it.
Amongst all the holiday villas available in Goa, this property with its 6 bedrooms centred around a stunning courtyard provides as the perfect space for just about anything. Be it a peaceful getaway or a celebration of life with ones who are near and dear. Take this opportunity to adapt yourself to the 'susegad' way of life – play it by ear, go with the flow and simply let the ocean waves carry your thoughts away.
Besides beautiful architecture and lush gardens, this Indo-Portuguese style villa also has a range of facilities on offer. Yoga, massages, healing sessions will ensure you never want to leave and a chef who cooks up scrumptious meals will serve you as you please. Our Estate Managers, Housekeeping and security staff are warm, friendly and efficient making sure your entire stay feels like nothing less than a dream. Simply make a booking and arrive, rest assured, you can depend on us to arrange all, if not more than all that you could possibly need.
Show More