The Colour of Summer
March 2021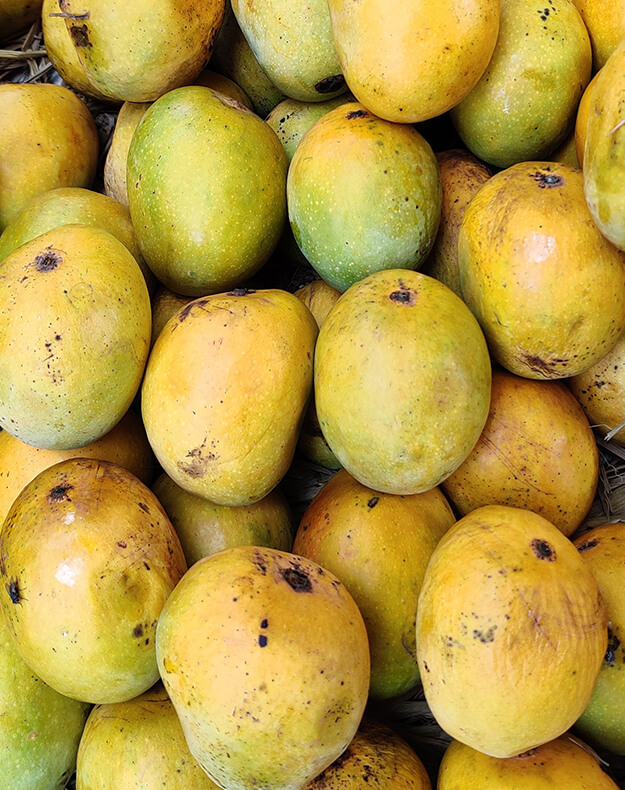 'Those who say that the colour of summer is not yellow are those who failed to see mangoes'. – Zephyr Limns.
While the popular time to visit Goa is considered the winter, don't forget that summer too, has its highlights. Though the increasing warmth of the days can often lead to a certain frenzy, one cannot dismiss the satisfaction that overcomes you after months of eagerly anticipating the divine flavours of the Goan mangoes. As the crowds line up at the fruit markets to collect the best of the Mankurad, Mussarat and Hilario, it appears as though they have been influenced by a certain MangoMania.
The era of mangoes was ushered in by the invasion of Alfonso de Albuquerque in 1498. Once the Portuguese influence was established, the value of growing mangoes was also truly understood. As the plantations of flavourful new varieties spread across the region, so did the excitement for the summer season. Don't be confused by the names though, they came about with relation to where they were grown or the families who grew them.
While the enticing aroma of ripe mangoes fills the air of the fruit markets only in the summer, you can also find raw mango varieties available as early as the start of March. Toran is a raw mango used to make Goan style pickles called Chepni and Miskut. Other popular local dishes are Mango Savav, a delicious curry and Mangad, the famed mango jam; both made using ripe mangoes.
Today, Goa celebrates more than one hundred varieties of mangoes. The Hapoos or Alfonso from Maharashtra and Gujarat may be incredibly popular, but the local Goan produce is known to exceed all expectations. Mango season is almost in full swing and if you happen to be in Goa, make sure to hop over to Panjim, Mapusa, Margaon or the Goan farmers market to collect your fair share. Besides the main markets, local fruit vendors and roadside stalls will also have a variety on offer.
Show More