Salt, spice, it's deliciously nice…
October 2019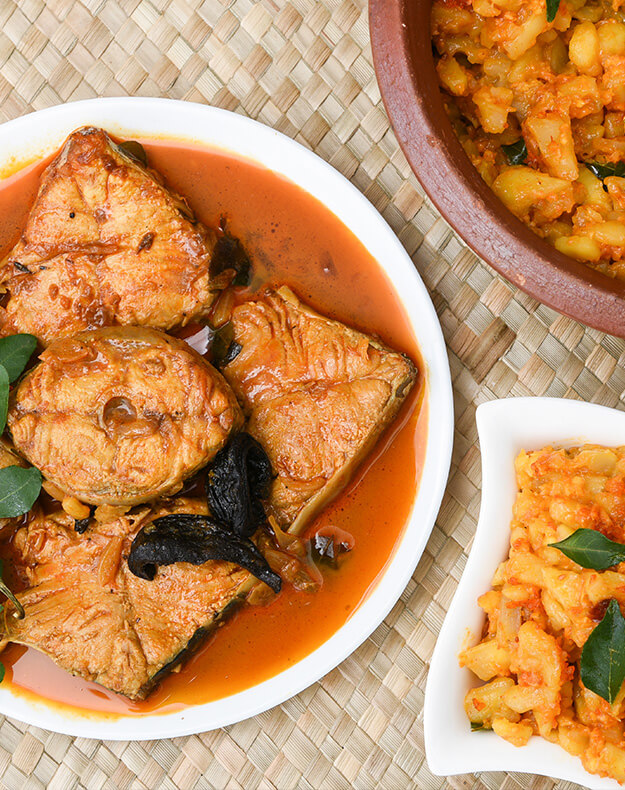 … Says anyone who has tasted Goan cuisine.
With treasured recipes of generations that have been seasoned with time, the food of India's sunshine state is a veritable melting pot of cultures. It is simmered with Konkan Hindu tastes, spiced with the strong elements of Catholic cooking, and tempered with distinctive colonial Portuguese influences.
Taking holiday homes in Goa will give you ample opportunities to sample the local cuisine. If you are brave enough to face its tangy spiciness, you must-try is the ambot tik, Goa's famed fish curry. Shark or catfish is cooked in distinctive sweet-spicy pungent gravy, and teamed with steamed rice. The natural sour of tamarind is blended into the red-hot spice quotient of dried red chillies and crushed peppercorns.
If meat is your thing, try the xacuti, inspired from the Portuguese 'chakuti.' Chicken, pork or lamb is added to curry of white poppy seeds, grated coconut, large red chillies and a complex spice mix.
High on seafood flavour is crab xec xec; exploding with the succulence of crabmeat in a gravy of coconut, onion, ginger garlic, and whole roasted spices.
Another non-vegetarian favourite is the chorizo that you can find everywhere, from the roadside stall to the fanciest of restaurants. Marinated in pickling spices and sun dried, these tasty pork sausages are best teamed with rice or bread and serve as a fulfilling snack.
And if you are looking at boutique homes for sale in Goa, make sure you have one in a locality frequented by poi sellers on their bicycles. For many find it difficult to pass up a generous helping of poi, the local whole wheat and white flour bread with a hollow cavity for stuffing chorizo or chicken cafreal.
While in Rome you do as the Romans do; in Goa you eat, to your hearts's content, as the Goans do!
Show More